Created in 2003 by Bernard Poupon, the REITZEL calendar aims to "break the codes" of the traditional greeting card by replacing it with a useful and original gift. Printed in limited series and distributed in only 5'000 copies, this calendar is meant to be different each year, often offbeat, and always surprising.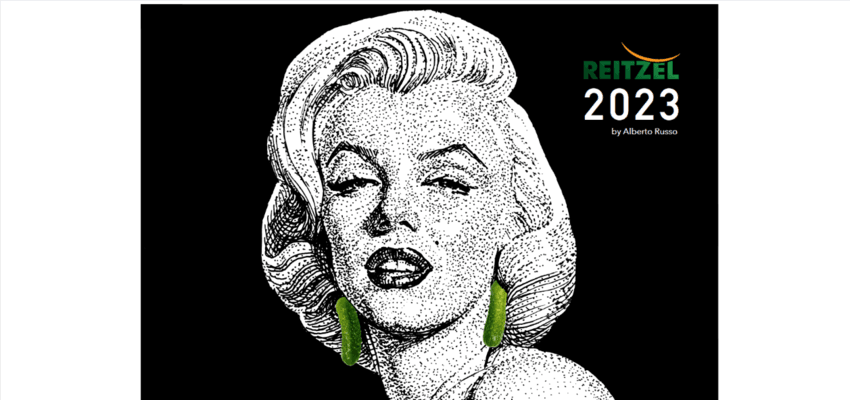 Calendrar 2023
This 20th edition of the Reitzel calendar is dedicated to the women of the 7th art. The artist Alberto Russo and his pen have illustrated these icons of the big screen with the usual constraint: the pickle! In black and white with a "dotted line" technique – the drawing is perceived differently depending on the angle or the distance one takes.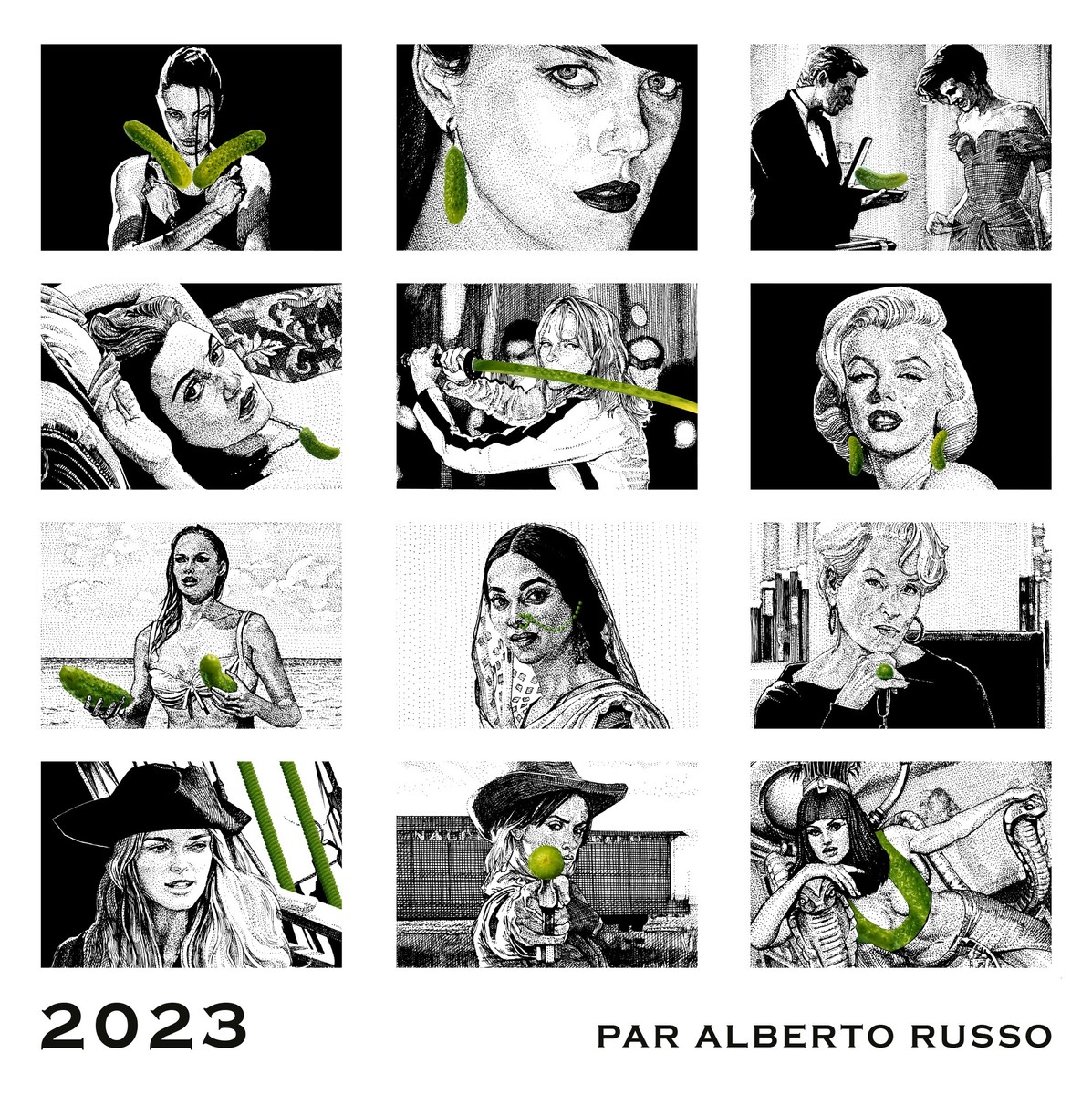 Calendrar 2022
The 2022 edition is signed Marie Pichonnaz and Matthieu Brulhart, two creative minds from Fribourg. In this photographic project, we discover Hugo as an influencer pickle. Over the months, he shares his life with us, through selfies and hashtags, comments and jokes, just like on social networks.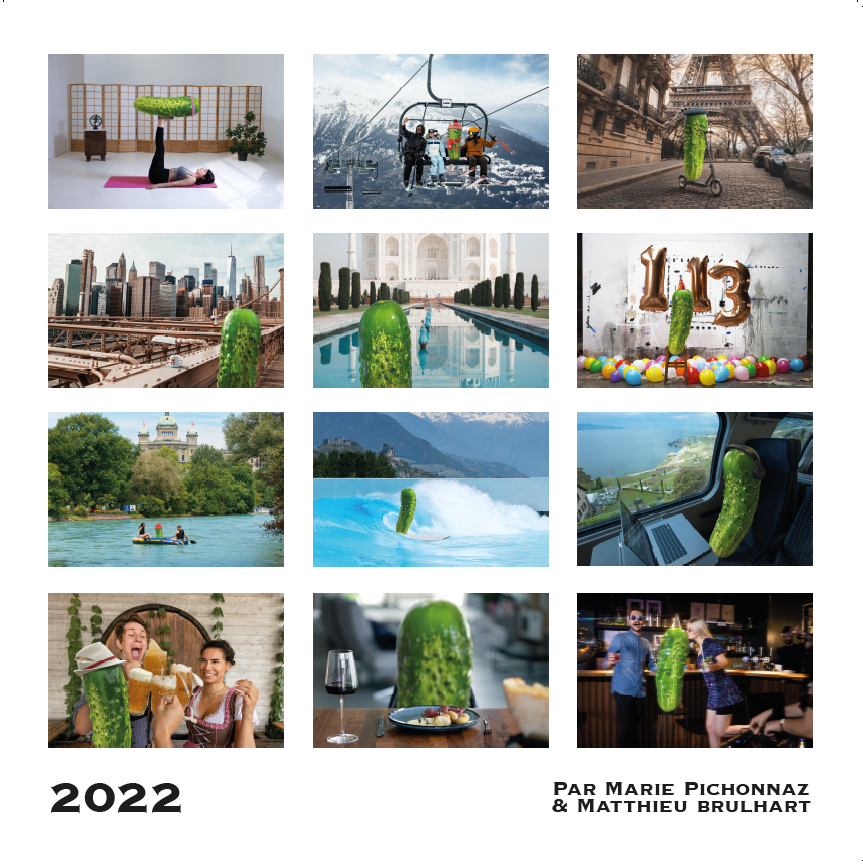 Calendrar 2021
Patrizia Stalder, a Baltic artist, has this year imagined the evolution of the pickle over time. Many species have disappeared over the ages but our favorite pickle has managed to hold on until today! Let yourself be surprised by this irresistible story.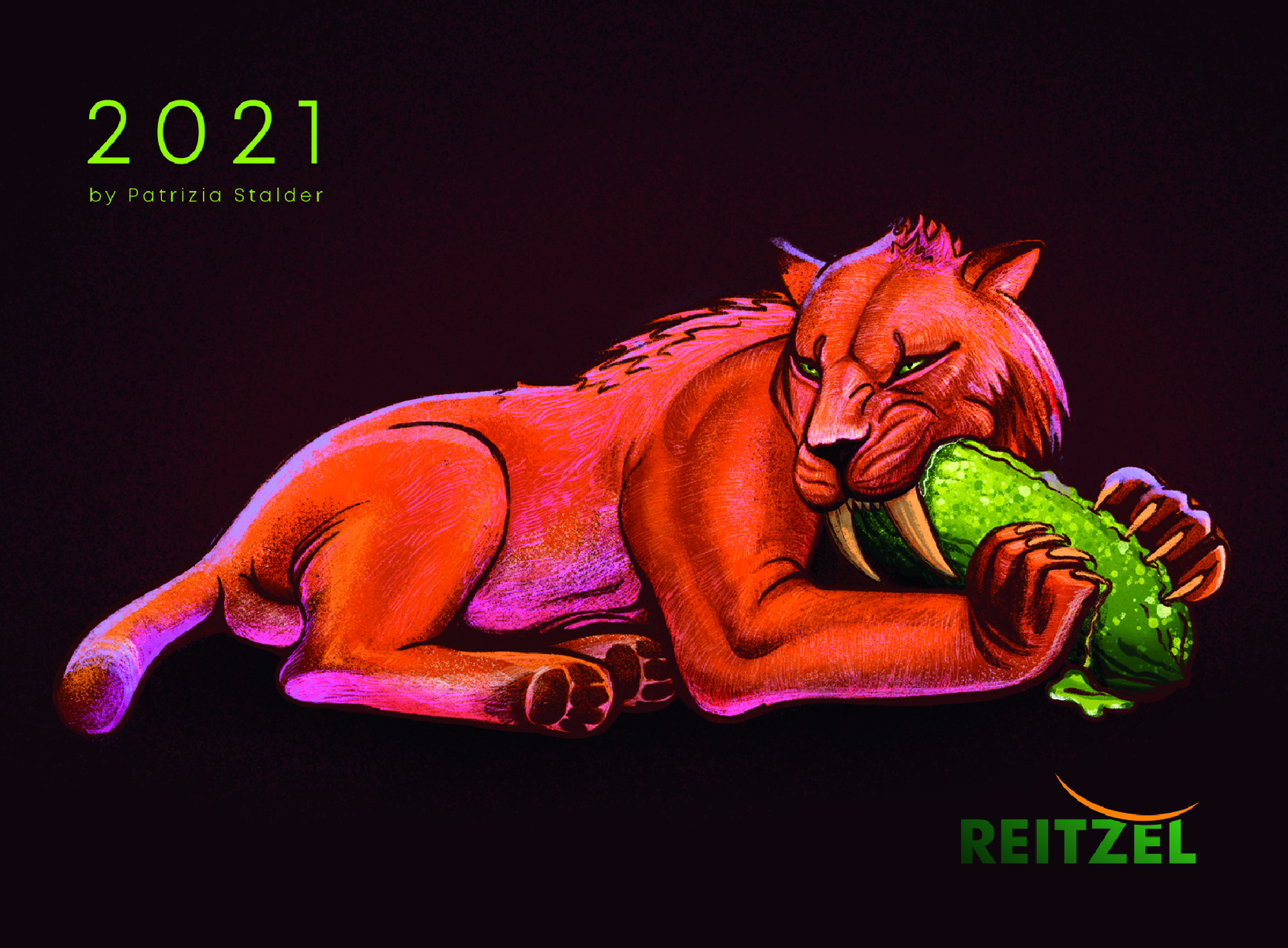 Calendar 2020
The famous cartoonist and father of the character Percevan, Philippe Luguy, has created a mischievous 2020 calendar for Reitzel: a tasty set of 12 drawings revisiting the famous tales of our childhood and featuring the company's flagship product, the gherkin. A nice tribute for Reitzel, which will celebrate its 111 years of existence in 2020.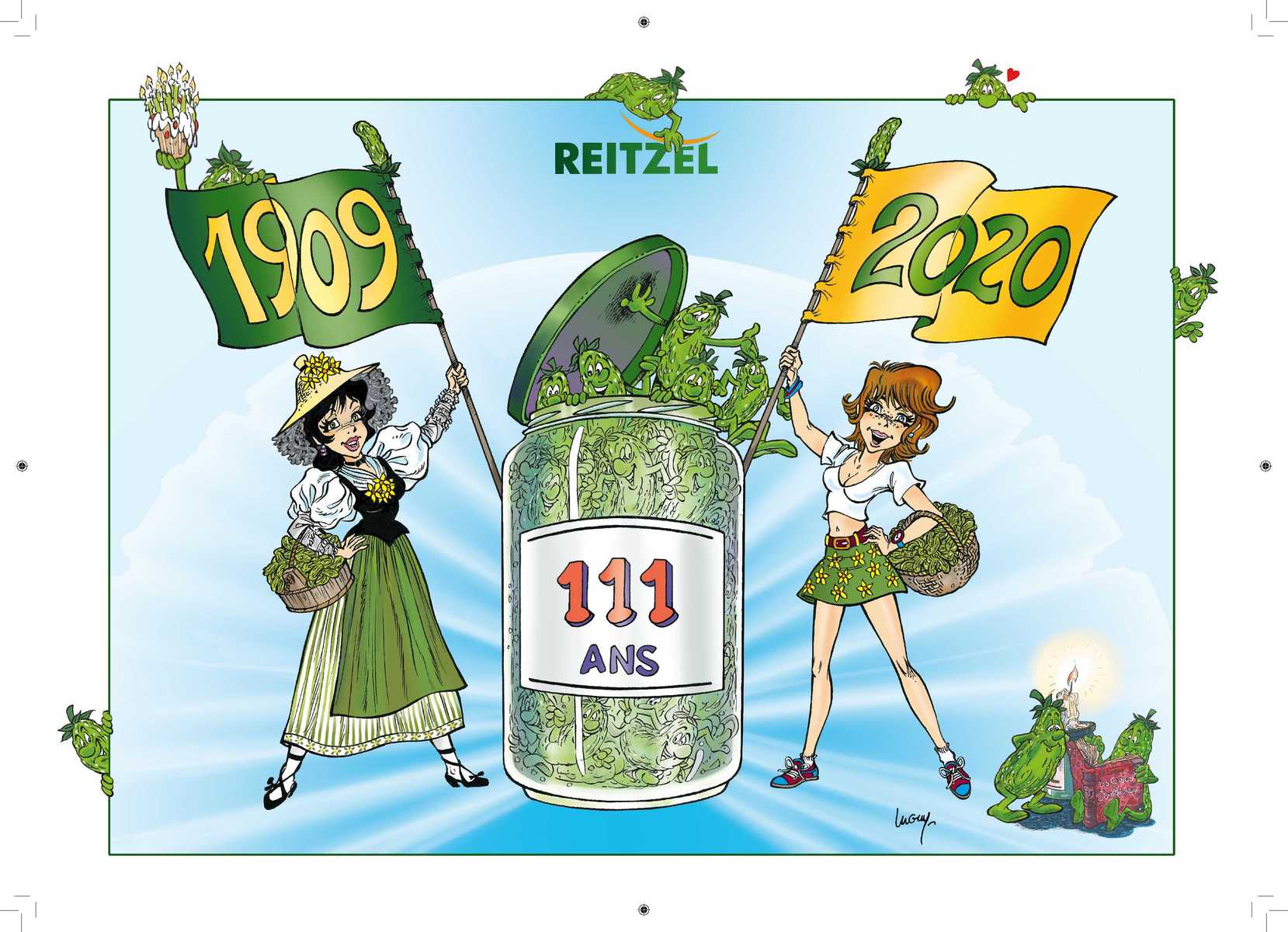 Calendar 2019
This 2019 edition of the Reitzel calendar is honouring the work done by our farming partners, who give all their know-how, energy and passion to bring us good crunchy fruits. For this version, Reitzel has asked a duo of Swiss photographers to capture the authentic moments of these men who each day, harvest the pickles of the brand with minutia.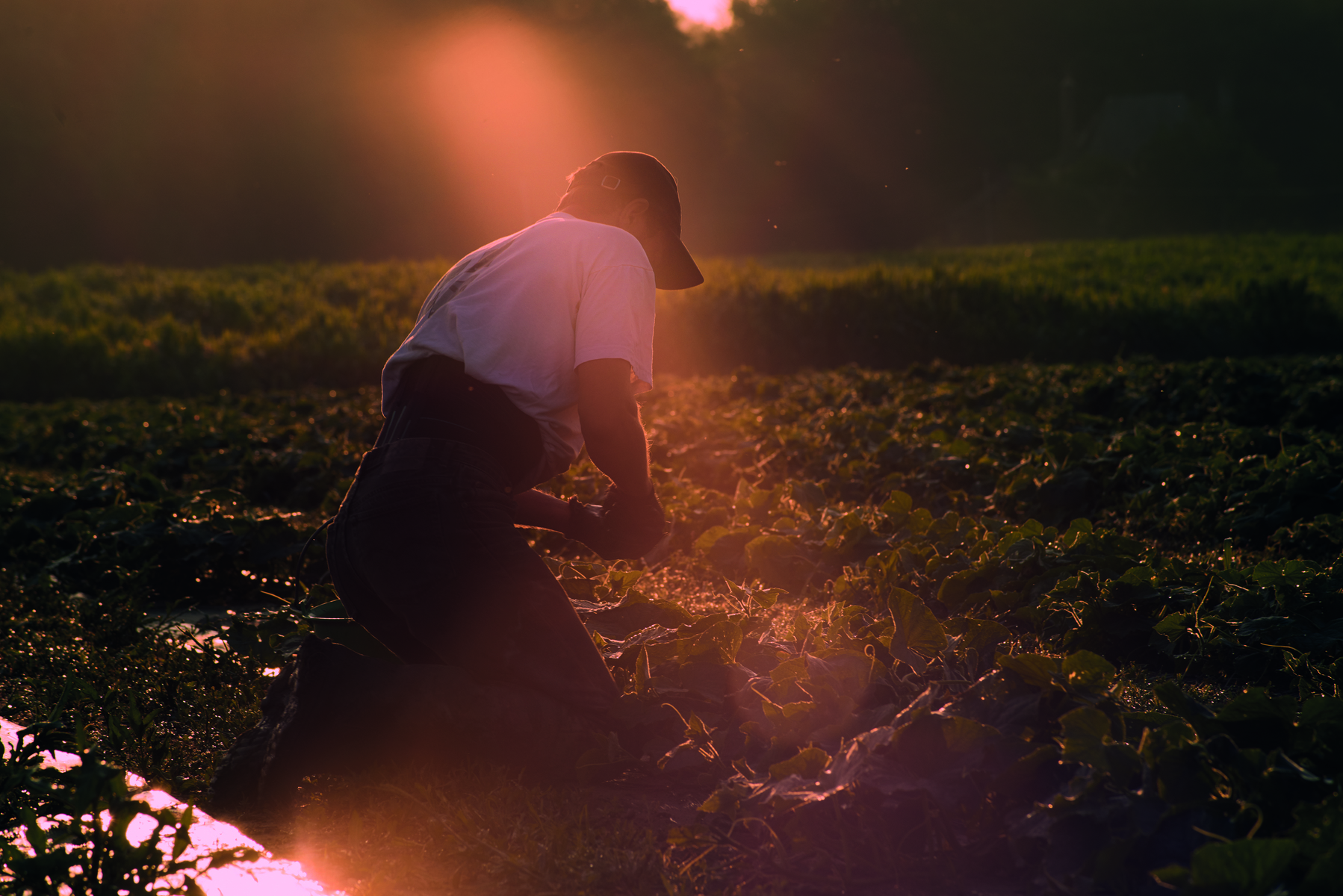 Calendar 2018
Reitzel has supported HI since more than 20 years and we are proud to take part in this wonderful humanitarian mission. This year we are pleased to offer you this calendar, illustrated with Zep's drawings, what are characterized by a twisted humour, and were created for HI.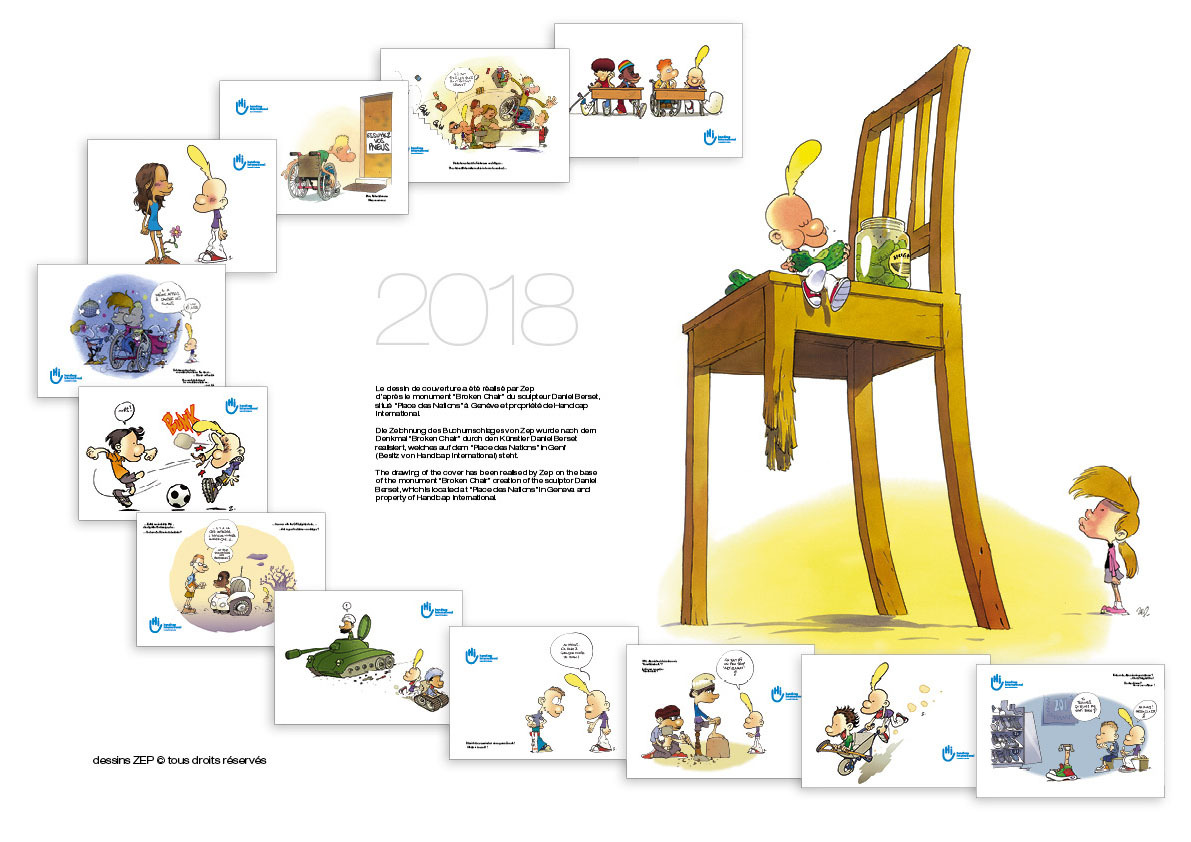 Calendar 2017
This 2017 calendar is packed full of spontaneous, offbeat pictures or comic strips together with some explanatory texts. The colourful and expressive design features a gherkin as the main character in a madcap range of satirical day-to-day situations.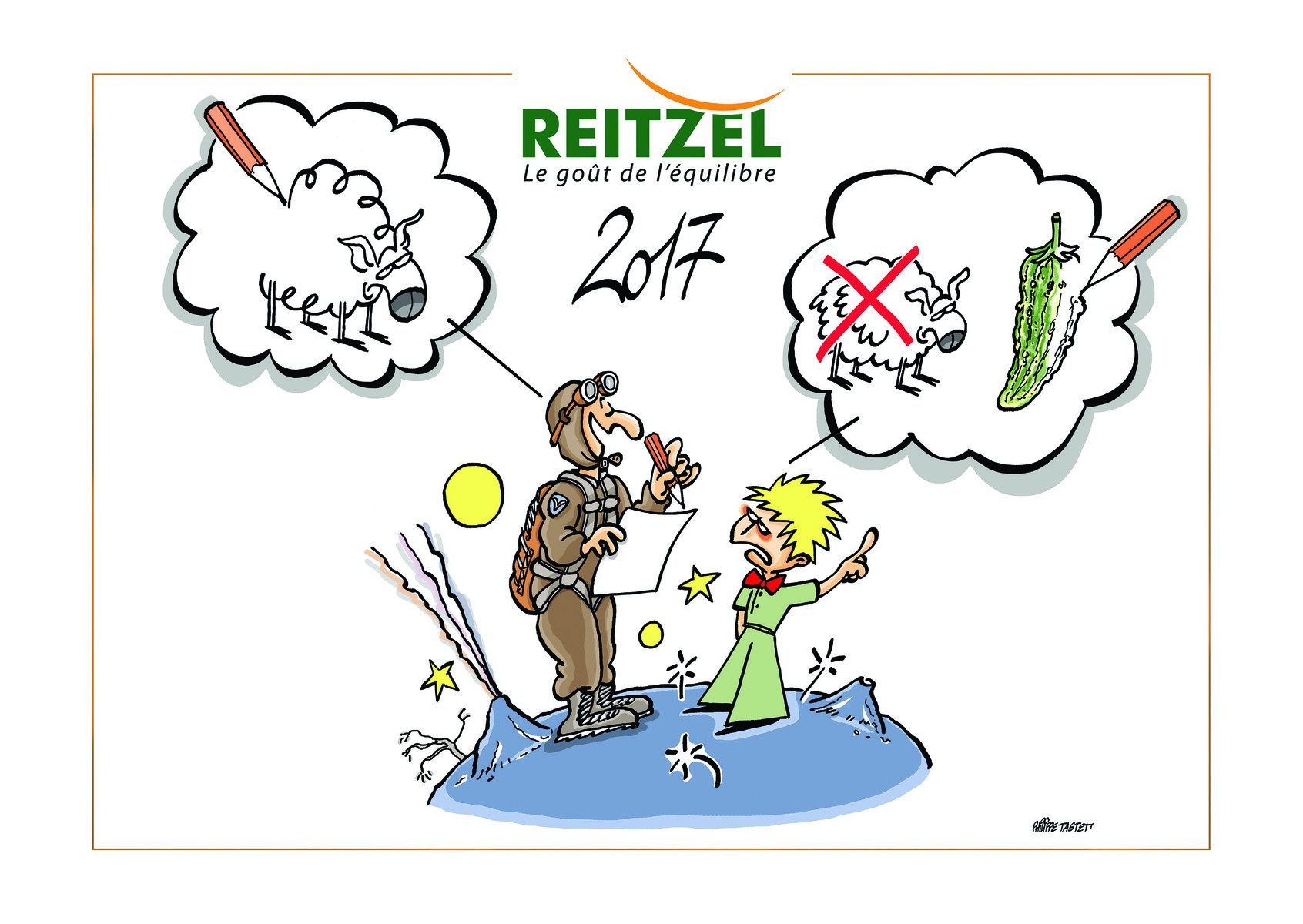 Calendar 2016
For our 13th edition, we finally decided to take the plunge and bring you the one thing that no-one dared ask for… but that everyone was waiting for: the sexy version of the Reitzel calendar! We entrusted this daring project to Clara Morgane, responsible for its design and production.
Calendar 2015
The collective Plonk & Replonk, with its absurd and squeaky humor, illustrated the pickle in some of the most unlikely situations. Would you have imagined the pickle king of the world or at the head of a sect?
Hush … We do not tell you more.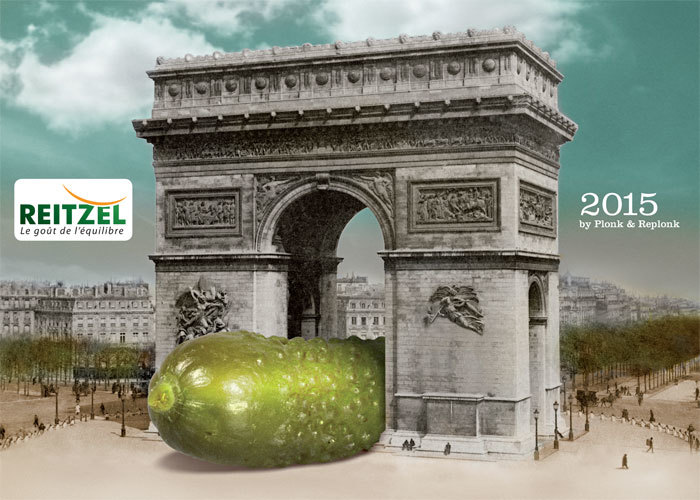 Calendar 2014
Every year, REITZEL calendar cause excitement by its originality and the inimitable cliches of gherkin it presents. Today, the cloak of mystery has been lifted and the edition 2014 of the calendar is finally revealed. Thanks to Nelly Briet, the gherkin gains in originality and style without losing its crunchiness. Discover now REITZEL calendar 2014.
Calendar 2013
For the 10th anniversary of the famous calendar Reitzel, the gherkin is the star like usual of the edition 2013. Always with humor, the creator declines it through movie references will you recognize all the movies ?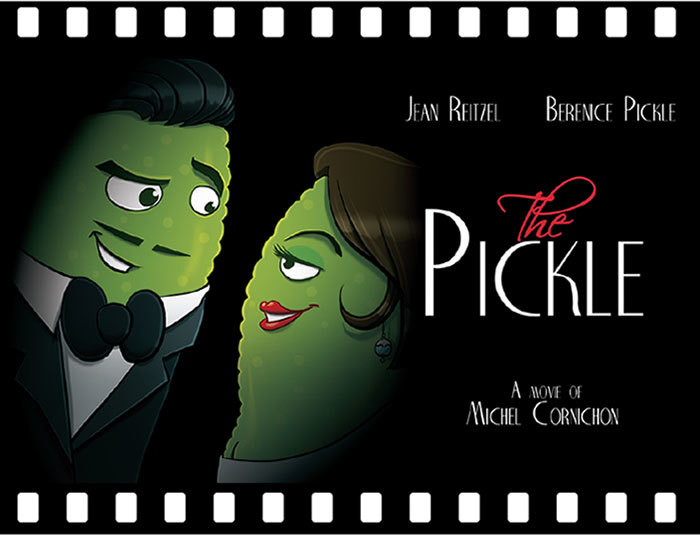 Calendar 2012
In 2012 a group of ECAL students, University of art and design Lausanne, embarked on a mission to achieve an elusive calendar for us! The aim of this cunning calendar was to assimilate pickles with contemporary and original photographs and it works!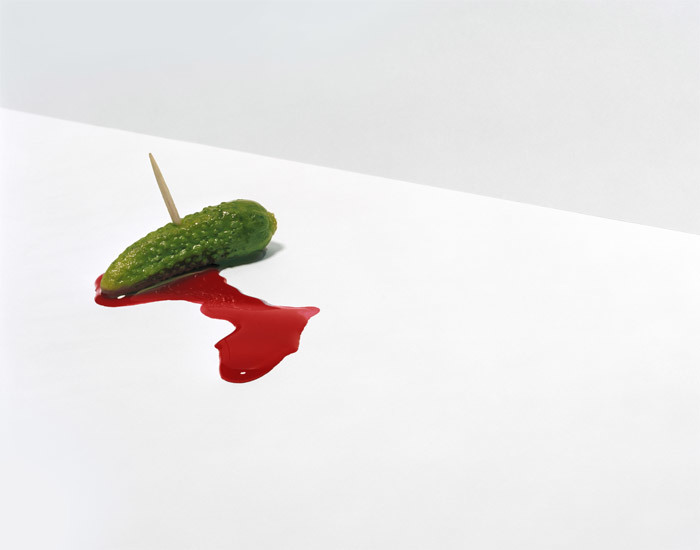 Calendar 2011
Irwin Fustec's calendar of 2011 gets its inspiration from the great paintings of the 20th century. Artists such as René Magritte, Andy Warhol and even Henri Matisse all portray the pickle in a amusing and iconic way!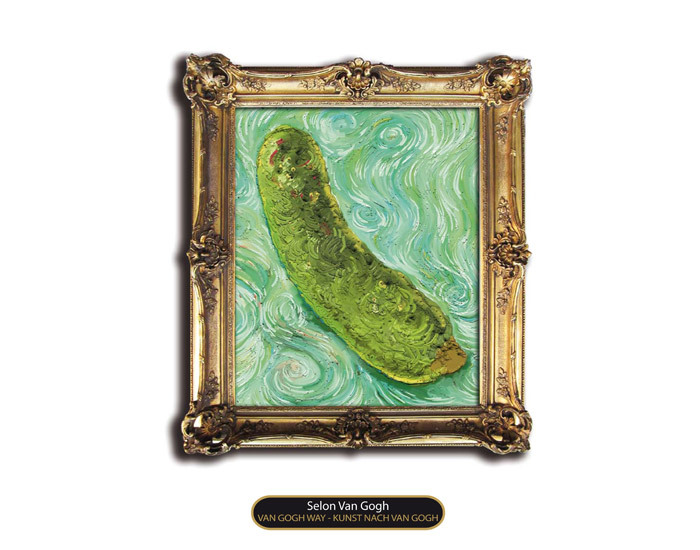 Calendar 2010
The pickle goes around the world! Thanks to Nathalie Hacker we observe the pickle dancing with at Rio carnaval, biking with a Breton, or even shopping with Father Christmas!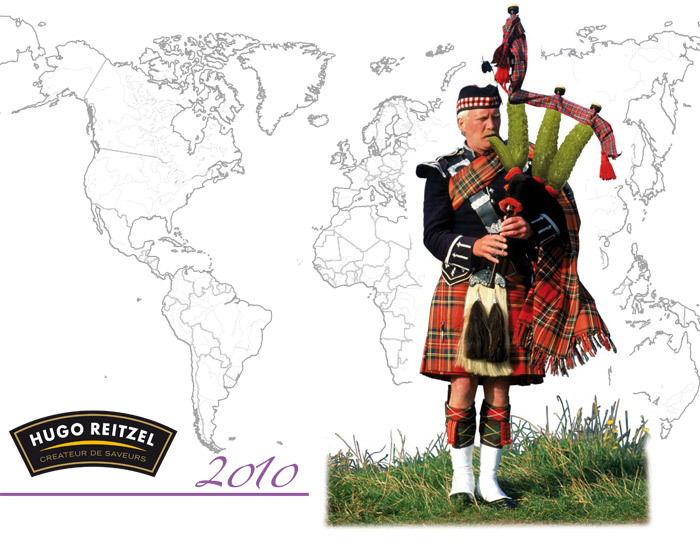 Calendar 2009
2009 marks the 100th birthday of Reitzel and its pickles. To celebrate this stirring moment Laforge Design, a specialist in illustrations, transcends us into a different universe through his delicate, but at the same time rugged, drawings. From Mexico to India and later France the pickle travels and so do we!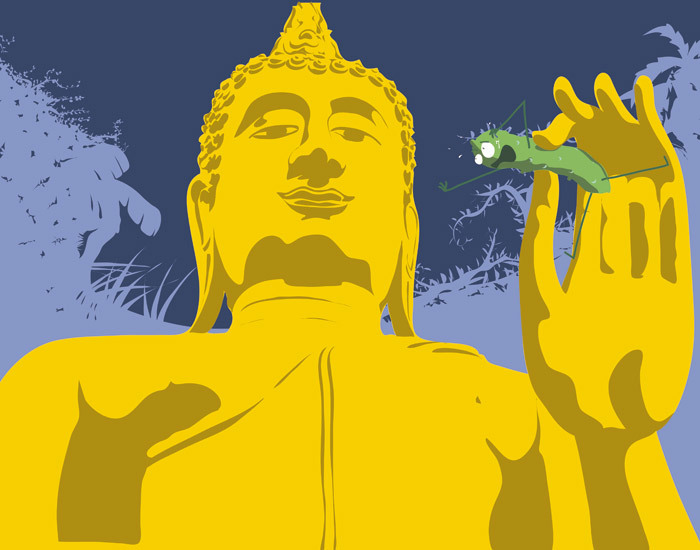 Calendar 2008
André Janzen, initially a jeweller, suggests different colourful collages pairing our pickles with the animal world. An original and daunting idea.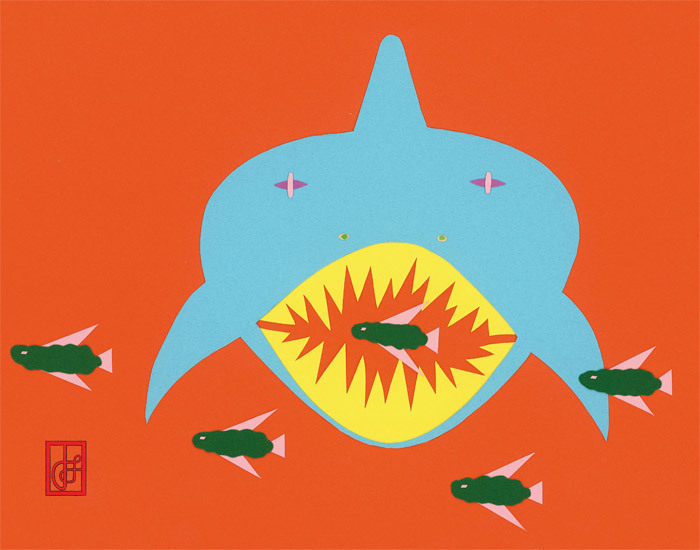 Calendar 2007
A return to childhood marks the year 2007. William Fichard delivers a calendar full of fantasies and memories. Like in our younger years, the aim of the calendar is to join each dot and eventually an image will appear. These drawings include a plane, a shark or even a walrus!
Calendar 2006
For 2006 Maud Camille decides to make it all about women. Under the theme of pampering and beauty, pickle replaces lipstick, nail polish, bubble baths and other accessories that women may use.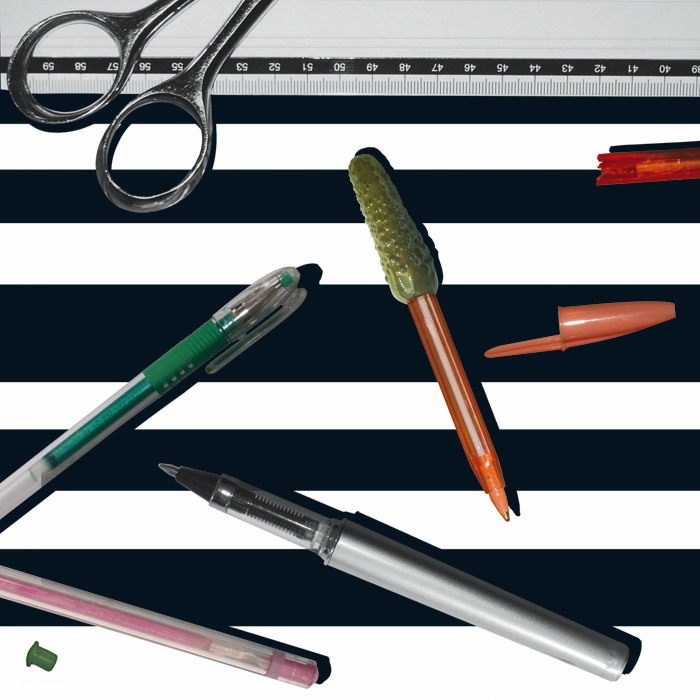 Calendar 2005
The Fifties, an inspirational time of Charleston, Marilyn Monroe, and red dotted mini skirts….Vincent Fichard takes us for a ride back in time! Unusual and offbeat, black and white images exhibit the pickle in many ways!